Zumtobels NOW! – Light That Pays For Itself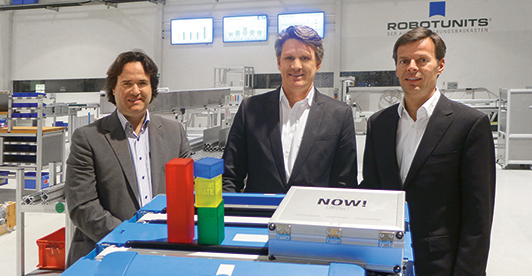 The Zumtobel Group have taken over responsibility for the operation of Austrian manufacturer Heron's industrial lighting for the next eight years. The turnkey package comprises replacement of the existing lighting system, installation and commissioning of the new energy-efficient Zumtobel lighting solution as well as energy monitoring and maintenance of the system. The refurbishment is being implemented in close collaboration with the company's electrical engineering partner, Elektro Willi from Andelsbuch.
Zumtobel's Executive Vice President Thomas Bischof explains the range of services provided: "Installation of energy-efficient LED luminaires will reduce energy and maintenance costs by 52% each month. Billing will be done via the reduction of operating costs achieved." Christian Beer, managing partner of the Heron Group, who manufacture automation components, says: "As we do not have to spend any money on investments, the funds remain available for product development, from which our customers will benefit in the long run."
Without any additional costs, Heron will get a new lighting system providing higher illuminance levels. "The Zumtobel experts provided competent advice and compiled a package specifically tailored to our needs. The Heron Group is provided with a one-stop solution, including energy monitoring and any maintenance tasks that may come up, and no longer needs to bother about its lighting system. We get long-term security in terms of lighting and energy savings," Christian Beer summarises the customer benefits.
In Stage 1, the lighting system in one hall will be refurbished and the illumination level increased from 300 to the required 400 lx. Old inefficient high-bay luminaires will be replaced. Heron opted for a high-quality Zumtobel lighting solution involving 76 196 W CRAFT LED luminaires with a service life of 50,000 hours. Despite a higher illuminance level, energy and cost savings of 52% are guaranteed. In Stage 2, the façade and garden lighting will be replaced.
This new scheme from Zumtobel, in the context of NOW!, offers light as a service. Customers will receive the best light to perform the tasks at hand, without having to buy any luminaires or having to take care of their operation. Companies will even receive a portion of the savings realised, as the example graph shows.
For more information, visit Now!.
13 Mar