Zumtobel Joins Forces With Central Saint Martins, UAL, in London to Promote Young Lighting Talent
Committed to promote young talents: Zumtobel joins forces with the prestigious Central Saint Martins, UAL, in London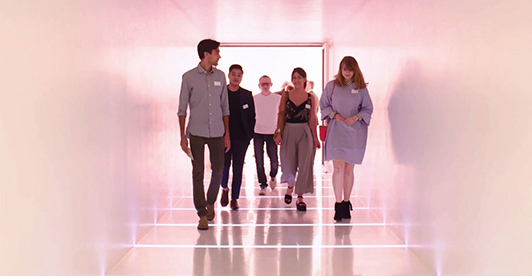 What will the new generation of lighting solutions really look like? This is the intriguing yet complex question that 60 students from Central Saint Martins, University of the Arts London (UAL) have been seeking to answer – in a variety of different ways. They were helped and supported with their discussions and deliberations by representatives of well-known architects and experts from Zumtobel.
Zumtobel is driven by a culture of innovation. This bold approach to embracing new ways of thinking and working is fuelled by creative exchanges with architects, artists and designers, as well as by the active promotion of emerging talent. Collaborations with a variety of different partners open up new approaches and provide valuable impetus for fresh innovation. In cooperation with Central Saint Martins, Teresa Zumtobel, Creative Design & Marketing Consultant Zumtobel Lighting and also a graduate of the prestigious London-based college, has been working on a special kind of project. A group of 60 students has been tasked with developing creative software applications, services, products or complete service systems for home, office, art and culture or retail applications and then presenting their final concepts to a team of experts. The panel selected the five most innovative ideas from the first round of presentations in London and the successful students were invited to the Zumtobel headquarters in Dornbirn for further discussions with specialists. The selection process was led by experts from Zumtobel and trusted partners from major design and architecture offices, including Chris Falla and Haochen Yu from Bjarke Ingels Group, Helmut Kinzler from Zaha Hadid Architects and Yorgo Lykouria, Creative Diector at HOK London.
"In order to remain a leader in the lighting industry, it is crucial to be actively involved with the current trends and the latest developments. The unconventional approach to product design taken by the students is therefore a genuine enrichment for us. At the same time, they can benefit from the experience and knowledge of our experts. I think it is fair to say that participants from all sides have been inspired by this project," explained Teresa Zumtobel.
Concepts developed by the students included a collection of light jewellery, which responds to the heartbeat of the individual, a luminaire that imitates sunlight by radiating warmth and well-being and a lighting solution for galleries that features flexible positioning and an adjustable light temperature. Another proposal outlined a retail lighting system that has the capacity to collect data from shoppers and simultaneously evaluate the results. Yorgo Lykouria was very positive about the project: "The attitudes of the students showed incredible commitment and passion; there were some presentations so full of joy. They love what they are doing, they are doing it because they want to and that shows a promise."
The experts were particularly impressed by a flexible and intelligent lighting solution for retail applications. Student Levon Lim Fang Yi thought carefully about every aspect of the solution, from the initial concept to the final realisation and even the marketing strategy, creating "Klik", a multifunctional spotlight rail with an adjustable luminaire housing that can be individually positioned at the push of a button, depending on the specific interior concept and shop design. The clear and minimalist design of the system suits any modern architecture. All the experts in Dornbirn deemed Levon Lim Fang Yi's proposal to be the best overall concept.
"Levon Lim Fang Yi inspired us with his detailed and consistent focus on function. Thanks to the enormous flexibility of the individual modules, his spotlight system can provide tailor-made lighting solutions for every room and every interior style – solutions that can be easily adapted with a simple movement," confirmed Manfred Petschulat, Global Application & Product Marketing Director, Office Applications at Zumtobel.
Central Saint Martins in London is regarded as one of the world's leading art and design schools. International students benefit from the extensive university network and a strong focus on practical instruction, with many courses offering the chance to work with the very latest technologies and materials. Famous graduates include industrial designer James Dyson, singer M.I.A., sculptor Antony Gormley and fashion designers Alexander McQueen and Stella McCartney, as well as actors Michael Fassbender and Colin Firth.
Zumtobel has a rich history of supporting well-known designers and emerging talents with lighting technology expertise. For example, the Austrian lighting solutions provider has already worked closely with the University of Applied Sciences in Mainz, enabling the creation of the Cornea Ti light artwork. Produced in collaboration with students from the interior design bachelor degree course, this interactive installation shone brightly at the Luminale 2014 with light from Zumtobel. Other projects have also been realised with universities in Lichtenstein, Linz, Graz, Vienna and Darmstadt, while further joint initiatives are already in the pipeline. The partnership with Central Saint Martins is also to be continued in the future.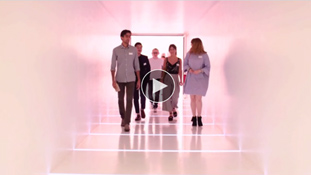 Video: To watch the video about the project, please click on this photo or here on the following lin https://youtu.be/V7BGJcNCnjc
13 Sep