Zumtobel Offer Configuration of Luminaire Variants Using MyPRODUCT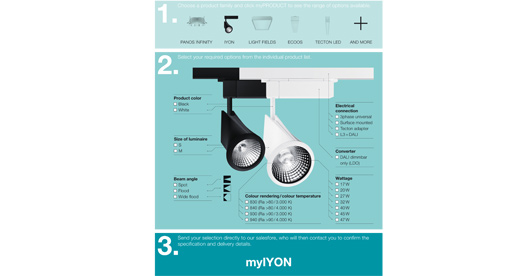 Zumtobel now makes it possible for you to configure luminaires on its website yourself, according to your personal requirements. This means that more than 1,000,000 alternatives are, in effect, added to the product catalogue.
In order to create a custom product variant, simply select the product range required on the website. Then go to the configurator, e.g. "myIYON" for the IYON product range, and from a variety of additional functions choose the options that suit your project requirements best. Choices include product colour, beam angle, electrical connection and colour rendering amongst others. The options depend on the base product chosen.
You can then forward the options you have chosen directly to the Zumtobel sales staff, who will be pleased to send you a quotation and answer any questions you may have.
For more information, choose the product type and then click on myPRODUCT.
10 Dec