Worlds First UV Powered Pathway of Light
The material that is sprayed onto the pathway of the Cambridge (UK) park absorbs and stores energy from ambient light (UV rays) during the day, then releases this energy at night allowing the particles to glow. The result is a sparkling moat of silvery pricks of light.
Pro-Teq Surfacing (UK) Ltd, developed and patented a world first for spraying a liquid based product in combination with either soft or hard media. This innovative pathway re-surfacing methodology called STARPATH is the result of an extensive period of chemical trials. Comprising a multitude of product samples, mix ratios and application techniques. STARPATH is currently being trialled in Christ's Pieces, a well-known park in the east side of the centre of Cambridge by Cambridge City Council.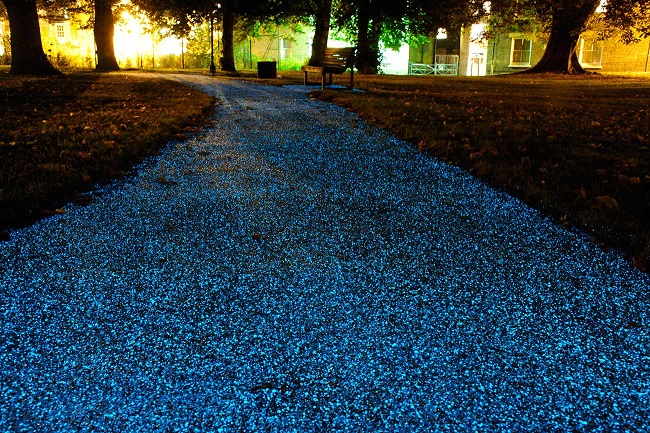 This product is extremely cost effective to both install and maintain while its seamless surface may be applied to any existing surface, be it concrete, tarmac, timber or any hard stand substrate (solid base). The aggregate material absorbs and stores energy from ambient light (UV rays) during the day, then releases this energy at night allowing the particles to glow.
Pro-Teq Surfacing (UK) Ltd believes STARPATH has considerable environmental appeal beyond the obvious reduction in council bills. As a resurfacing technique, which does not require the existing surface to be removed, the Pro-Teq alternative has immediate advantages over those products offered by its competitors, including savings realised through carbon credits, reducing the council carbon footprint. It eliminates the substantial cost of removal and disposal of the existing surface, ultimately enhancing the 'green friendly' reputation of those organisations choosing to install Pro-Teq's products.
Hamish Scott, Owner of Pro-Teq Surfacing (UK) Ltd said, "There is nothing like STARPATH in the world, this product adjusts to the natural light, so if it is pitch black outside the luminous natural earth enhances, and if the sky is lighter, it won't release as much luminosity – it adjusts accordingly, its almost like it has a mind of its own. It is exceptional. At Pro-Teq Surfacing (UK) Ltd, we use natural earth products and it cannot be replicated by any other source; you need to physically see it to believe it, this is pure nature doing its work".
As outlined above, STARPATH effectively generates its own energy during the day while radically enhancing visibility at night, which assists pathway users. It is certainly a sustainable surface, perfect for cyclist and disabled access and has a high safety margin with its anti-slip properties. It can also help to reduce the risk of collisions between cyclists and pedestrians at night without having to resort to artificial painted centre lines. The aggregate is a non-reflective light source, the lack of any glare off the surface further enhancing its acceptance in more populated areas. (eg: if this product were to be laid on a driveway in a private residence, there would be no adverse impact on neighbouring properties).
This product has recently been sprayed onto the existing pathway that runs through Christ's Pieces open space, Cambridge between the city centre and the Grafton Centre, and is used by pedestrians and cyclists during the day and night.
The Cambridge pathway measures 150 square metres, took only 30 minutes to spray the material on, and the surface was ready for use less than four hours after the job commenced. This short installation time allowed minimal disruption to the public.
Hamish Scott believes STARPATH is more than cost effective for councils, as councils around the country are currently turning off street-lighting at night to realise energy savings. STARPATH provides a viable alternative, which provides for safety at night, whilst also being cost effective.
Hamish Scott said, "Councils spend significant sums of money fully replacing existing pathways when the existing surfaces have reached the end of their practical life. Our product is cost effective, fast to apply and fast to set, is an anti-slip surface, while the client has a choice of size and colour of aggregate. Once the aggregate is laid we apply a finishing coat, which is specially formulated to ensure the surface is water-resistant, and provides longevity to the finished product. Further, the surface is environmentally-friendly and aesthetically pleasing".
He continued, "We are so pleased Cambridge City Council has agreed to trial the product. STARPATH has attracted much interest from the public, in Cambridge and other councils in the UK. We continue to refine and adapt the product to ensure it meets the on-going needs of our customers and the environment".
27 Oct